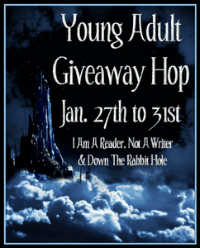 I'm really starting to love giveaways! I've joined a YA Giveaway Hop for my first Giveaway of 2012! I really debated on giving away this book because I loved it, but in the end I looked at my overflowing bookshelf and decided to go with it. So the book I'm giving away is an ARC of
Switched
by Amanda Hocking. It was just released to stores on January 24th and best of all the other two books in the trilogy will be released very soon after (2/28/12 and 4/24/12).
So enter for your chance to win
Switched
by Amanda Hocking
and then check out the other blogs participating in the YA Giveaway! Good Luck!
a Rafflecopter giveaway